How to post a job on Google Jobs?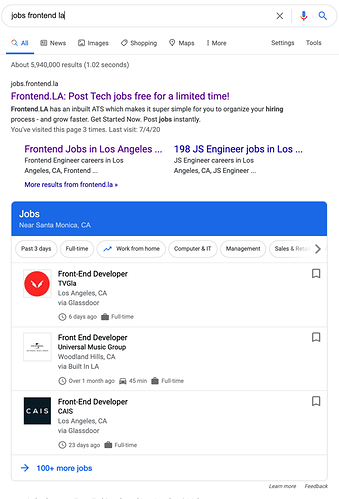 Well very few know about the google jobs widget. Google Jobs widget is where google shamelessly promotes its own new jobs aggregator product over everyone else's who've been working hard for 30+ years to build awesome job boards.
A lot of people don't even realize that they've entered the Google Jobs page where it promotes many scammy sites and their bot cannot differentiate between legit sites and spam. Why would google do it? just because it can. Google EOD is a tech startup/SMB killer. Google is happy to acquire a firm that has enough demand and kill the competition with its infinite marketing dollars. Anyhow here is an example of the jobs widget:
Google's jobs' widget gets a ton of traffic from job seekers because they don't know that googling jobs is hurting them. Why? Because Google is not a job board it's a website crawler that can take forever to crawl pages. So if the job went live today and it is time sensitive, google's bot doesn't care. On top of that by the time google indexes the job and shows it to job seekers searching for jobs on google, the job has already been filled or has more than 100 applicants.
Google For Jobs/ Google's jobs' widget many times sends job seekers to expired jobs or websites that are not legit. reach out to us for proof if necessary.
But google is the boss of the online world and you cannot say/do much.
End of the day you want to be on google jobs either to get candidates to your site or to find candidates for the positions you have open.
So there are two ways to get your jobs in "Google Jobs Widget".
1. Add structured data to each job published on your website. Job Structured Data

2. Post your job on an approved google jobs vendor site.
Now if you choose to add job structured data to your site. Keep in mind. Google may still not show your site in its jobs' widget and if it does it will still show 10 other approved vendors on the same job listing and you might not get any direct visits from job seekers. Hence it's not worth the effort if your focus is on hiring the best candidates. If you use an ATS like JazzHR or Breeze or Taleo or WorkDay, that's awesome because they take your money but don't get you any candidates and don't offer much either if you don't have candidates. Our advice – choose any Free Applicant Tracking System, it usually offers the essential features and you can request bells and whistles, most companies offering a free product are looking for feedback and they are happy to build additional features for clients.
All Applicant Tracking Systems leave it upto you to market your jobs and get candidates and please that pitch of post one job here to submit to 100+ job boards never really works. We're sorry if you've already wasted your money there. This isn't our first rodeo. We've spent 2 decades trying to find talent and know what works. The best things in life are free. It doesn't mean the path is easy, it just means they are free.
However, to start with google for jobs try to post a job for free here & wait for a few days. As a google jobs approved vendor, the job goes live on Google's jobs widget rather quickly and if it doesn't always add a like to the URL of your posted job on your website. Google might index your site first and discover the job from there.